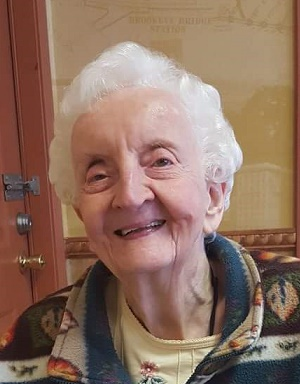 In Memory of
Reta Mae Butler
1935 - 2018
Obituary of Reta Butler
Rita M. Butler, age 82 of Noxen, peacefully went home to be with the Lord on Tuesday, May 22, 2018 at the Gardens at Tunkhannock.
Mrs. Butler was born in Lehman Township on August 15, 1935 and was the daughter of the late Russell and Mary Williams Rogers.
Rita was a faithful member of the Northmoreland Baptist Church, Centermoreland. She was a people person and loved spending time with her family.
In addition to her parents, she was preceded in death by her husband, Robert H. Butler, who passed away in 1968 and sister, Mary Lou Heath.
Rita is survived by her son, William R. Butler; her daughters, Brenda Walter and Lisa Stephenson; her niece, Sharon Heath; her brothers, James and Richard Rogers; her sisters, Barbara Williams and Shirley White; 5 grandchildren and 1 great grandson.
Funeral services will be held Saturday, May 26, 2018 at 10:00 am from the Curtis L. Swanson Funeral Home, Inc., corner of routes 29 and 118, Pikes Creek, with Pastor Kurt Seboe of the Northmoreland Baptist Church, officiating.
Visitation will be from 6:00 - 8:00 PM on Friday at the funeral home.
Interment will be in the Orcutt's Grove Cemetery, Noxen.
In lieu of flowers, memorial donations may be made to Alzheimers Association, Greater Wilkes-Barre Chapter, 57 N. Franklin St., Wilkes-Barre, PA 18701.