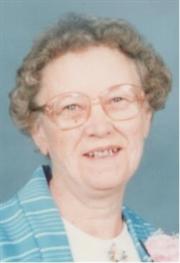 Share Your Memory of
Cora
Obituary of Cora Estella Barber
Cora "Dolly" Estella Barber, age 93, of Evans Falls area, went home to be with the Lord on Thursday, May 31, 2012 at the Hospice Community Care, Wilkes-Barre.
Mrs. Barber was born March 6, 1919 in Eaton Township, and was the daughter of the late Harvey and Estella Sickler .
Cora was known as "The Picture Lady". She attended the Hunter School on Jenks Road, a one room schoolhouse, and then graduated from Beaumont High School Class of 1937. She lived in the Jenks area for all but 2 years of her life.
Shortly after her birth, her mother passed away. Her uncle, Samuel Sickler, and his wife Sarah took on raising Cora who was only 2 lbs. and 3 oz. Her sister Louise took care of the other 6 siblings. She received the nickname "Dolly "from Sarah and Sam's sons Clarence and Chester who thought she looked like a doll. Sarah "Mom" Sickler had her in shoebox by the oven door.
Mrs. Barber attended Bowman's Creek Free Methodist Church, Pilgrim of Holiness Church, Tunkhannock and Evans Falls Methodist Church.
She is preceded in death by her husband Lee Barber; granddaughter: Crystale Leigh Barber; brothers: Bill, Pete, Ray, Jim, Chester and Clarence and 2 infant brothers; sisters: Louise and Katherine Cook .
Cora is survived by; sons: Boyd Barber and his wife, Linda of Harveys Lake and Ron and his wife, Shari of Centennial, Wyoming; 8 grandchildren; 26 great grandchildren; sister: Julia Kingston of Laceyviile; numerous nieces and nephews.
Funeral service will be held Monday, June 4, 2012 at 11:00 AM at the Bowman's Creek Free Methodist Church, corner of routes 29 and 309, with her pastor, Lynn Mokwa, and pastor L. D. reed, pastor of the Emmanuel Assembly of God Church, Harveys Lake, officiating.
Friends may call from 9:00 AM - 11:00 AM prior to the service on Monday.
Interment will be Orcutt's Grove Cemetery, Noxen.
Funeral arrangements are by the Curtis L. Swanson Funeral Home, Inc. corners of routes 29 and 118, Pikes Creek.
In lieu of flowers, the family requests that memorial contributions be sent to the church of the donor's choice.
To send flowers to the family of Cora Barber, please visit Tribute Store
Funeral Service
11:00 am
Monday, June 4, 2012
Bowman's Creek Free Methodist Church, Tunkhannock, PA
10 SR 309 S
Tunkhannock, Pennsylvania, United States