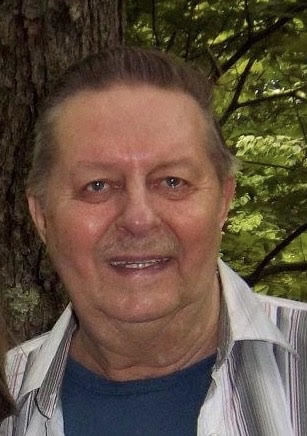 Obituary of Wayne Jefferson Swire
Please share a memory of Wayne to include in a keepsake book for family and friends.
Wayne Swire, age 76 of Lake Twp., passed away Sunday, August 28, 2022. The face of the working man. He spent most of his life helping build the highways we all travel on here in PA. He was a carpenter and mason and had the hands to prove it. He also worked for Newel Fuel for several years repairing furnaces, where his skill as a mason and carpenter allowed him to help many people over the years (often free of charge). He loved hunting and fishing in his younger years but found great joy in simply watching wildlife travel in and out of his yard as he got older. He once, while spending the night at his friend Butch's cabin and drinking a few beers, tied a rope to a stick covered with bacon grease and was drug out the door of the cabin by a black bear (not recommended BTW). Another time while drinking a few beers with Warren Hubbell, a childhood friend, the two were out driving in a convertible and found a donkey in a barn. The donkey was knee-deep in poo, so they purchased it for $15 from the farmer's son, loaded it in the back seat of the convertible, and drove it home. All to the amazement of many bewildered onlookers, they drove through the town of Tunkhannock (again, not recommended). He loved war movies and Westerns, especially those with John Wayne in them. He was proud of his military service and enjoyed his time in Germany. He was a cash-only man and didn't believe in buying anything with credit. He lived simply but comfortably. As his health began to fail, he put away the drinking and smoking and focused more on spending time with people he loved and that loved him. In addition to his parents Tom and Arline Swire, He is preceded in death by his loving wife Joan I. Swire. He is survived by children Vicky Scudillo (Lisa), Wayne T. (Veronica), David Traver (Gail), Jeff (Melissa), Amy (Gary), Christopher (Deb); Brothers Penn (Betty), Robert (Sue); Sisters Linda (Roger), Peg (George), Juanita (John) as well as several grandchildren and great-grandchildren. Funeral services will be held Friday, September 2, 2022 at 1:00 PM from the Curtis L. Swanson Funeral Home, Inc., corner of routes 29 and 118, Pikes Creek. Visiation will be from 11:00 AM to 1:00 PM prior to the service at the funeral home. Internment and graveside service will be held at Chapel Lawn Memorial Park, Dallas following the viewing. In lieu of flowers, please make memorial donations to the charity of your choice.
To send flowers to the family or plant a tree in memory of Wayne Swire, please visit Tribute Store
Share Your Memory of
Wayne