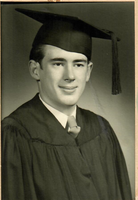 Ronald Willard Hillman
Ronald W. Hillman, age 82 of Lake Twp., passed away Friday, November 15, 2019 at the Meadows Nursing Center, Dallas.
He was born in Nanticoke on November 4, 1937 and was the son of the late Gomer and Sophie Schwartz Hillman.
Ronald graduated from Nanticoke High School in 1955 and received his master's degree in computer science from the University of Maryland. He retired as an administrator for the Baltimore Maryland Social Security office. Ronald enjoyed being an amateur ham radio operator, his call sign was N3KGC.
He is survived by his wife of 54 years, the former Dorothy Harrington; son, Timothy Hillman; brothers, Raymond and Ralph Hillman; granddaughter, Cheyanna.
A private graveside service will be held at the convenience of the family at the Maple Grove Cemetery.
Arrangements are by the Curtis L. Swanson Funeral Home, Inc., corner of routes 29 and 118, Pikes Creek.