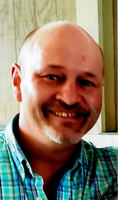 Jeffrey Floyd Weaver
Jeffrey Weaver, age 49 of Lehman Twp., passed away unexpectedly early Sunday, November 24, 2019.
He was born in Wilkes-Barre on October 29, 1970 and was the son of the late Emerson and Frances Crispell Weaver.
Jeff was always known for being a hard worker, working for McCarroll Precast for over 20 years and was currently working for the Wilkes-Barre Housing Authority. He was a devoted father, brother, uncle and friend and will be missed by many. Jeff grew up in a large, loving family with 5 brothers and 5 sisters.
He is also survived by his son, Adam Weaver; daughter, Olivia Reed and her husband Kurtis; grandchildren, Finley and Easton Reed; companion, Melissa Barcheski; as well as a host of loving friends and relatives.
In addition to his parents, he was preceded in death by brother, Richard and sister, Sherry.
A memorial service will be held Friday, November 29, 2019 at 7:00 pm from the Curtis L. Swanson Funeral Home, Inc., corner of routes 29 and 118, Pikes Creek.
Visitation will be from 5:00 PM -7:00 PM on Friday prior to the service at the funeral home.
In lieu of flowers, memorial donations may be made to the Sons of the Harveys Lake American Legion, 4907 Memorial Highway, Harveys Lake, PA 18618.