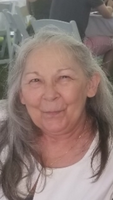 Ellen Mae Sorber
Ellen M. Sorber, age 57 of Hunlock Creek, passed away Thursday, November 14, 2019 at the Temple University Hospital, Philadelphia.
She was born in Kingston on December 4, 1961 and was the daughter of the late Elmer and Ruth Fine Shaw.
In addition to her parents, she was preceded in death by sisters, Bonnie Pastorelli and Sandra Baker and grandson, Ryder Childers.
Ellen is survived by her loving husband of 33 years, Russel Sorber; daughters, Melissa Childers (Ryan), Amy Potavin (Timothy), Robin Sorber and Lisa Young (Joseph); son, Jonathan Sorber; brothers, Gary and Ronald Shaw; sisters, Gail Burdulis, Mary Ann Dunn, Tina Mericle, Darlene Burnett and Diane Pick; 10 grandchildren who called her by grandma "Hey You".
Funeral services will be held Tuesday, November 19, 2019 at 10:00 am from the Curtis L. Swanson Funeral Home, Inc., corner of routes 29 and 118, Pikes Creek, with Pastor James McGee of the Hunlock Creek United Methodist Church, officiating.
Visitation will be from 6:00 - 8:00 PM on Monday at the funeral home.
Interment will be in the Bloomingdale Cemetery, Ross Twp.
In lieu of flowers, memorial donations may be made to Gift of Life Family House, 401 Callowhill St., Philadelphia, PA 19123.