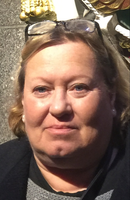 Shirley Louise Hall
Shirley Hall, age 64 of Huntsville, passed away Sunday, October 20, 2019 with loving family by her side at the Wilkes-Barre General Hospital, following an unknown illness.
She was born in Kingston on July 24, 1955 and was the daughter of Louie Hall of Tampa, FL and the late Dorothy Rogers Hall.
Shirley graduated from Lake-Lehman High School in 1973. She served in the US Air Force as a Technical Sgt. after 20 years of service. After her honorable discharge, she was employed for 10 years as a claim's processor for Cigna Healthcare, Moosic. Shirley was a loving mother, sister and aunt. She enjoyed crocheting and loved her dog, Jasper.
In addition to her father, Shirley is survived by her daughter, Britney Hall; brothers, Louis Hall of Noxen, Pastor Christopher Hall of Commack, NY and David Hall of Mountaintop; sister, Wendy MacDougall, with whom she resided; nieces and nephews.
A memorial service will be held Saturday, October 26, 2019 at 12:00 pm from the Curtis L. Swanson Funeral Home, Inc., corners of routes 29 and 118, Pikes Creek, with her brother, Pastor Christopher Hall of Bethel Baptist Church, Commack, NY, officiating.
Visitation will be from 10:00 AM - 12:00 PM on Saturday prior to the service at the funeral home.
Private interment will be in Huntsville Cemetery.
In lieu of flowers, to help the family with final expenses, donations may be made to The Shirley Hall Memorial Fund, c/o Community Bank, 1230 N. Memorial Highway, Shavertown, PA 18708.