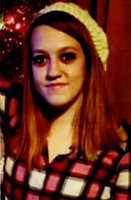 Sara Kayla Zacharias
Sara Zacharias, age 23 of Noxen, passed away unexpectedly Friday, October 11, 2019 at the Geisinger Wyoming Valley Medical Center, Plains Twp.
She was born in Kingston on November 6, 1995 and was the daughter of Richard and Lori Baller Zacharias of Noxen.
Sara attended Lake-Lehman High School and resided in Noxen all her life. She was the definition of a country girl, enjoying anything outside including hunting, fishing, off roading and riding motorcycles.
In addition to her parents, she is survived by sisters, Lakrista Pfeiffer and Makayla Zacharias; paternal grandmother, Doris Miller; maternal grandparents, Eugene, Sr. and Janice Baller; great-grandfather, Harry Zacharias; fiancé, Bill Nichols; nephew, Deacan; niece, Hayden.
Funeral services will be held Wednesday, October 23, 2019 at 11:00 am from the Curtis L. Swanson Funeral Home, Inc., corner of routes 29 and 118, Pikes Creek, with Pastor Ben Hubbell of the Noxen Bible Baptist Church, officiating.
Visitation will be from 6:00 - 8:00 PM on Tuesday at the funeral home.
Interment will be in the Zacharias Cemetery, Monroe Township.