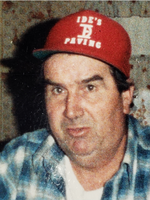 Earl T. May
Earl T. May, age 78 of Noxen, passed away Saturday, April 13, 2019 at the Allied Services Hospice, Scranton.
He was born in Jenningsville on December 24, 1940 and was the son of the late Alfred May and Irene Redmond.
Earl was employed by Newell Fuel Company for 26 years and later retired from St. Michael's School, Falls, after 13 years of service. He was an active member of the Noxen Volunteer Fire Company. Earl was a loving father to his children.
In addition to his parents, he was preceded in death by his wife, the former Carol Eyet and son, Scott May.
Earl is survived by daughter, Vicki Coolbaugh and her husband Jerry; sons, Alfred and his wife Heather, Kenneth and his twin brother, Kevin; 9 grandchildren and 1 great-granddaughter.
Funeral services will be held Tuesday, April 16, 2019 at 8:00 pm from the Curtis L. Swanson Funeral Home, Inc., corner of routes 29 and 118, Pikes Creek, with Pastor Ben Hubbell of the Noxen Bible Baptist Church, officiating.
Friends may call 6:00 - 8:00 PM on Tuesday prior to the service.
In lieu of flowers, memorial donations may be made to the Noxen Volunteer Fire Company, 3493 Stull Rd., Noxen, PA 18636.