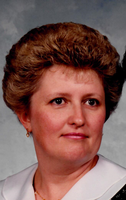 Theda Mae Cragle
Theda Mae Cragle, age 66 of Shickshinny, went home to be with her Lord on Tuesday, March 19, 2019 at home.
She was born in Wilkes-Barre on May 15, 1952 and was the daughter of the late Gersham and Margaret Keiper Hoyt.
Theda was a member of the Huntington Mills Church of Christ which was dear to her heart.
Her family was the most important part of her life. She enjoyed cooking, reading and tending to her flower garden.
In addition to her parents, she was preceded in death by son, Kevin Cragle and sisters, Connie Dymond and Shirley Zajkowski.
Theda is survived by her husband of 49 years, Gary Cragle, Sr.; daughter, Sherry O'Connor and her husband Mike; son, Gary Cragle, Jr and his wife Shannon; daughter-in-law, Vicki Cragle; brothers, Gersham, Glenn, Leonard and Oscar Hoyt; sister, Bonnie Goodrich; grandchildren, Jessica, Tyler, Cody, Miranda, Katelynn, Brody, Luke and Olivia; numerous nieces and nephews.
Funeral services will be held Saturday, March 23, 2019 at 11:00 am from the Curtis L. Swanson Funeral Home, Inc., corner of routes 29 and 118, Pikes Creek, with Pastor David Berlin, officiating.
Visitation will be from 9:00 - 11:00 AM on Saturday prior to the service at the funeral home.
Interment will be in the Maple Grove Cemetery, Pikes Creek.