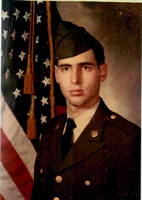 Robert Keith Leonardo
Robert "Keith" Leonardo, age 61 of Trucksville, passed away peacefully on Sunday, March 10, 2019 at home, following a courageous battle with cancer.
He was born in Westbury, NY on November 30, 1957 and was the son of the late Robert and Marion Zippel Leonardo.
Keith played football for Westbury Wheels and high school football at Walt Whitman High School in Huntington Station, New York. He was a graduate of Poultney High School, Poultney, VT in 1975 and received his associate degree in criminal justice from Castleton State College, Castleton, VT, in 1979. Keith served with distinction in the Vermont Army National Guard and the New York Army National Guard.
He was a longtime professional in the dry-cleaning business including employment at Northport Cleaners in Northport, NY and 24 years at Stevens Town and Country Cleaners in Dallas. In addition to his professional and educational accomplishments, he played in the Mike Ralston Band in Northport, NY. Keith loved to play the drums, ride his 2300cc Triumph motorcycle, was an avid football fan, shade-tree mechanic and a car enthusiast. He will be sadly missed with his positive enthusiasm and energy with the people he met.
Keith is survived by his longtime companion, Emilie Peters of Dallas; daughter, Megan Leonardo of San Diego, CA; brother, Steven and his wife Coreen and their family of Dallas; sister, Diane and her family of East Setauket, NY, Jacklyn and Julio Garcia of Jackson Heights, NY; many nieces, nephews and cousins whose life he touched.
A memorial service will be held Saturday, March 16, 2019 at 1:00 PM from the Curtis L. Swanson Funeral Home, Inc., corner of routes 29 and 118, Pikes Creek, with Pastor Val Rommel of the Noxen United Methodist Church, officiating.
Visitation will be from 1:45 PM to 4:00 PM following the service at the funeral home.
In lieu of flowers, memorial donations may be made to Best Friends Animal Society, 5001 Angel Canyon Rd., Kanab, UT 84741 or Patriots Cove, C/O Luzerne Foundation, 34 South River St., Wilkes-Barre, PA 18702.