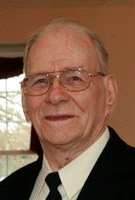 Lyle Clifford Johnson
Lyle C. Johnson, age 89 of Trucksville, went home to be with his Lord on Tuesday, February 19, 2019 at the Veterans Administration Medical Center Wilkes-Barre, surrounded by his loving family.
He was born in Spring Lake, WI on September 1, 1929 and was the son of the late Henry and Ann Benson Johnson.
Lyle served in the US Navy during the Korean Conflict. He retired as a truck driver after 50 years of service and later volunteered at the VA Medical Center as a patient escort. Lyle was an active member of the Dallas Baptist Church and the Korean War Veterans Association of Wyoming Valley, Kingston. He enjoyed being with his family and will be deeply missed.
In addition to his parents, he was preceded in death by brother, Walter Johnson, sister, Caroline Schoeder and nephew, Rory Johnson.
Lyle is survived by his wife of 33 years, the former Julie Kuniskas; daughter, Julie Wiecezak and her husband Christopher; sons, Thomas Johnson and his wife Cynthia and Lee Johnson; sister, Margaret Wolske; brothers, Jerry, Joseph, Richard and Adolph; grandsons, Tom Johnson and his wife Jennifer and Billy Johnson; great-grandchildren, Michael and Nell Johnson, Arianna and Owen Deyo, and Natalie and Noah Hettes; numerous nieces and nephews.
A memorial service will be held Saturday, February 23, 2019 at 11:00 am from the Dallas Baptist Church, 9 Briarcrest Rd., Dallas, PA 18612 with Pastor Jerry Branch, officiating.
Friends may call 9:00 - 11:00 AM on Saturday, prior to the service at the church.
In lieu of flowers, memorial donations may be made to the Dallas Baptist Church, 9 Briarcrest Rd., Dallas, PA 18612.