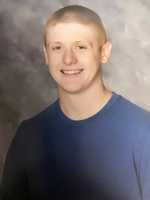 Justin Walter Frederick
Justin Walter Frederick, age 18 of Sweet Valley, passed away on Wednesday, January 23, 2019 due to a work related accident.
He was born in Kingston on December 13, 2000 and was the son of Christopher Frederick of Sweet Valley and Julie Smith Frederick of Mountaintop.
Justin was a student at Lake-Lehman High School. He was a member of the NRA and was an avid outdoorsman. Justin was a loving son, brother and grandson with a keen sense of humor. He will be deeply missed by his friends and family.
In addition to his parents, Justin is survived by sister, Tori Frederick of Sweet Valley; paternal grandparents, Jack and Tammie Frederick and Helen Frederick and Ed Campbell; maternal grandparents, Roy and Carol Smith.
Funeral services will be held Sunday, January 27, 2019 at 4:00 pm from the Curtis L. Swanson Funeral Home, Inc., corner of routes 29 and 118, Pikes Creek, with Pastor Rocky Bonomo of the Sweet Valley Church of Christ, officiating.
Visitation will be from 1:00 - 4:00 PM on Sunday prior to the service at the funeral home.