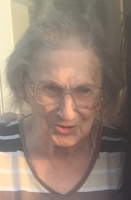 Alvina Oney
Alvina R. Oney of Hillsborough, New Jersey, passed away on Tuesday, January 15, 2019 surrounded by her family at Robert Wood Johnson University Hospital in Somerville, NJ.
Alvina was born on May 31st, 1934 in Hazleton, and was the daughter of the late William and Rebecca (Taylor) Stack.
Alvina was active in the Tupperware organization in her earlier years, becoming one of the top Tupperware dealers in New Jersey. In her later years she was active in volunteer work. Her many hobbies included making crafts and restoring antiques.
In addition to her parents, Alvina was predeceased by her brother Bill and sisters Carol and Elsie. She is survived by her son George Oney and his wife Wendy of Claremont, CA; son: David Oney of Hillsborough, NJ; granddaughters: Seraphina and Kristina Oney, and many beloved nieces and nephews.
A funeral service will be held at 11:00 AM on Monday, January 28th from the Curtis L. Swanson Funeral Home, Inc., corner of routes 29 & 118, Pikes Creek with Pastor Rick Womer of the Tunkhannock Assembly of God Church, officiating.
Relatives and friends may call at the funeral home from 10 to 11AM prior to the service on Monday.
Interment will be in the Kocher Cemetery, Ruggles.