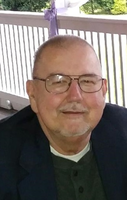 Richard Allen Blaine
Richard A. Blaine, age 67 of Shavertown, passed away Monday, January 14, 2019 at the Gardens at Lakeside, Harveys Lake.
He was born in Kingston on November 4, 1951 and was the son of the late Norval and Dorothy Casterline Blaine.
Richard served in the US Army for 2 years and was employed as a truck driver. He was a loving husband, father and grandfather.
He is survived by his wife of 33 years, the former Marion Kozak; sons, Richard, Jr. and Joseph; brothers and sisters; grandchildren, Aiden and Caitlyn.
Funeral services will be held Friday, January 18, 2019 at 2:00 pm from the Curtis L. Swanson Funeral Home, Inc., corner of routes 29 and 118, Pikes Creek, with Pastor Raymond Petts of the Back Mountain Harvest Assembly Church, officiating.
Visitation will be from 6:00 - 8:00 PM on Thursday at the funeral home.
Interment will be in the Lateer Cemetery, Sweet Valley.