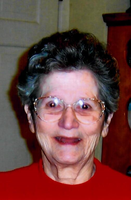 Marian Ruth Miller
Marian Ruth Miller, age 95 of Lake Silkworth, died Friday, January 11, 2019 at Mercy Center, Dallas, two days before her 96th Birthday.
She was born in Wilkes-Barre on January 13, 1923 and was the daughter of the late Richard and Rhoda Tellum Wright, who were originally from Cornwall, England.
Marian was a graduate of Coughlin High School, Wilkes-Barre. She worked at the Wilkes-Barre Record prior to her first marriage to the late Ralph Kenneth Daily in 1942. Upon his death, she worked as a medical assistant and receptionist for Dr. George De Curtis for many years. Her second marriage to Frederick Miller was in 1970 and they relocated to Lake Silkworth.
In addition to her two husbands, Marian was preceded in death by brothers, Marvin, Howard, Clifford, Calvin and Wilbur Wright, sister, Ethel Wright Schooley, daughter, Joyce McCall, granddaughter, Christine Curtis and son-in-law, George Cooper.
She is survived by daughters, Nancy Carey (Ned) of Wyoming, Linda Cooper of Noxen, Jan Elston (David) of Sweet Valley and Jill Heritage (Paul) of Shickshinny; grandchildren, John Carey (Jess), Jennifer Carey, Beth Carey (Eric Wuttke), Richard Matysik (Amanda), Joseph Matysik, Connie Ledford (Roger), Kenneth Daily (Beverly), Jaime Elston, Jessica Swarr (John), Janna Kabosky (Chris), Kelly Donnelly (Joe), Adam Holcomb and Casey Holcomb (Kayla); 23 great-grandchildren and numerous nieces and nephews.
Funeral services will be held Friday, January 18, 2019 at 12:00 PM from the Maple Grove United Methodist Church, 5876 Main Rd., Hunlock Creek, PA 18621, with Rev. W. James Pall and Rev. Will McCall, officiating.
Visitation will be from 11:00 AM – 12:00 PM prior to the service at the church.
Interment will be in the Maple Grove Cemetery, Pikes Creek.
In lieu of flowers, memorial donations may be made to the Maple Grove United Methodist Church, 5876 Main Rd., Hunlock Creek, PA 18621.
The family would like to thank her son-in-law, Dr. Edward Carey, Dr. John Carey and the Mercy Center for the excellent medical care during Marian's life.