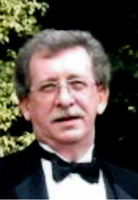 James Rodney Boock
James R. Boock, age 71 of Lehman Twp., passed away Wednesday, January 9, 2019 at the Geisinger Wyoming Valley Medical Center, Plains Twp.
He was born in Conyngham on May 7, 1947 and was the son of the late Richard and Arletta Roth Boock.
James was raised in Weatherly and was employed by Bemis Printing in Hazleton for over 30 years. He was a member of the Hazel Azalea Fellow Masonic Lodge. He was also a freelance photographer for weddings and other social events. James enjoyed woodworking, canoeing, collecting coins and antiques.
He is survived by his wife, Lucy Doris Palmerino; step-daughters, Chandra Palmerino of Lancaster and Pauline Tomko of Virginia; sister, Linda Zanoline of Sugarloaf; 2 grandchildren.
A private funeral service will be held at the convenience of the family. There will be no calling hours.
Arrangements are by the Curtis L. Swanson Funeral Home, Inc., corner of routes 29 and 118, Pikes Creek.