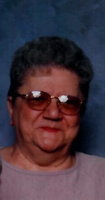 Thelma "Tillie" Hettes
Thelma "Tillie" Hettes, age 84, passed away on Saturday, January 5, 2019 at home, surrounded by her loving family
She was born in West Wyoming on February 6, 1934 and was the daughter of the late Walter and Louise Yaletsko Troy.
Thelma was a member of the St. Luke's Reformation Church, Noxen, and its Ladies Society.
She was also a member of the Noxen Volunteer Fire Company Ladies Auxillary and was the Noxen Township Inspector of Elections for many years.
In addition to her parents, she was preceded in death by her husband of 61 years, John Hettes, sister, Eleanor Popko, brother, Walter Troy and infant brother and sister.
Thelma is survived by children, Debbie Creasing of Noxen, John Hettes, Jr. and his wife Debbie of Carverton, Jimmy Hettes and wife Cathy of Swoyersville, Philip Hettes and his wife Wendy of Noxen and Brenda Chipego and her husband Tom of Harveys Lake; sisters, Barbara Tupper of Michigan, Mary Ann Verbetich of Florida and Rosie Kane of Moosic; 18 grandchildren, 26 great-grandchildren and 6 great-great grandchildren; numerous nieces, nephews and cousins; extended family, Tom and Pat Norris and their family.
A private memorial service will be held at the convenience of the family from the Curtis L. Swanson Funeral Home, Inc., corner of routes 29 and 118, Pikes Creek, with Marty Everhart, officiating.
There will be no calling hours.
In lieu of flowers, please hug your family.