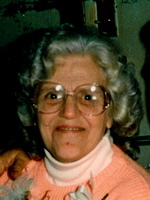 Beverly Joan Murphy
Beverly Joan Murphy, age 84 of Noxen, passed away Thursday, December 20, 2018 at home, surrounded by her loving family.
She was born in Wilkes-Barre on September 29, 1934 and was the daughter of the late Holden and Lina Kitchen Newell.
Beverly graduated from Noxen High School and was a resident of Noxen for most of her life. She was a member of the Noxen United Methodist Church, Judge of Elections in Noxen for many years, President of the Noxen Little League for 8 years, President of the Ladies Auxillary for the Noxen Volunteer Fire Company and was one of the founders of the Noxen Historical Society. Beverly was a loving wife, mother, grandmother, and great-grandmother and great-great grandmother.
In addition to her parents, she was preceded in death by husband, Charles Murphy, Sr. who passed away in 2008, children, Charles Murphy, Jr. , Donna Harvey and Connie Hoover, brothers, Holden, Jr., Kenneth, Harold, Warren and Leon Newell and sister, Betty Territo???.
Beverly is survived by sons, James Murphy and his wife Connie of Noxen, Russell Murphy and his wife Melinda of Noxen and Brian Murphy and his wife Tina of Sweet Valley; daughter, Tammy Crispell and her husband Jeffrey of Noxen; 15 grandchildren, 22 great-grandchildren and 2 great-great grandchildren.
Funeral services will be held Friday, December 28, 2018 at 11:00 am from the Curtis L. Swanson Funeral Home, Inc., corner of routes 29 and 118, Pikes Creek, with Pastor Val Rommell of the Noxen United Methodist Church officiating.
Visitation will be from 6:00 PM - 8:00 PM on Thursday at the funeral home.
Interment will be in the Orcutt's Grove Cemetery, Noxen.
In lieu of flowers, memorial donations may be made to Hospice of the Sacred Heart, 100 William St, Dunmore, PA 18510.