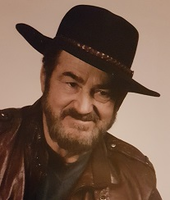 Charles Elwood "Bud" Weaver
Charles (Bud) E. Weaver 91, of Noxen, passed away Thursday, Dec. 20 2018 at Meadows Nursing Home, Dallas PA.
Mr. Weaver was born in Noxen on Sept. 23, 1927 and was a son of the late Elmer and Irma Schenck Weaver.
He was employed by the U.S. Army and was a disabled veteran from World War II.
Charles was a member of St. Luke's Reformation Lutheran Church, Noxen, the American Legion, and the Gun Association.
He enjoyed auctions, camping, country music, fishing & hunting, flea markets, polka dancing, telling jokes, fixing things, and tinkering on cars.
He was preceded in death by his brother Cubby Weaver, sister Gladys Gouble, wife Carolyn M. Butler Weaver, children Charles D. Weaver, Elwood Weaver, Gail Weaver and Debra Doughton, a grandson, and two great grandchildren.
Surviving are daughters Linda Patton and her husband Osbert of Mill City; Dorothy Konopatski and her husband Frank, of Falls; Karen Eaton and her husband, Kenneth, of Lehman; Barbara Weaver of Germany; brother Bob Weaver of Georgia; 13 grandchildren and 25 great grandchildren.
Funeral service will be held Saturday, December 29, 2018 at 11:00 AM from the Curtis L. Swanson Funeral Home, Inc., corner of routes 29 & 118, Pikes Creek with Pastor Ben Hubble of the Noxen Bible Baptist Church officiating.
Interment will be in the Orcutt's Grove Cemetery, Noxen.
Visitation will be from 6-8 PM on Friday, December 28 at the funeral home.