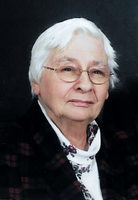 Bertha Williams
Bertha Williams, age 89 of Pikes Creek, died Thursday, November 22, 2018 at the Meadows Nursing Center, Dallas.
She was born in Berwick on February 22, 1929 and was the daughter of the late Cleon and Rose Perre Dribelbis.
Bertha graduated from the former Lehman High School in 1948. She was employed by Dana Perfumes in Mountaintop, Sears in Wilkes-Barre, American Red Cross, Northeast Chapter and Kronick Kalada Berdy, CPAs, Kingston.
In addition to her parents, she was preceded in death by her 1st husband, Thomas John Creasing, 2nd husband, Rev. David Robert Williams and brother, Norman Dribelbis.
Surviving are son, the Honorable Thomas Creasing; daughters, Jeanette Niemeyer, Beth Sheeran and Partricia Brosious; 8 grandchildren and 9 great-grandchildren; several nieces and nephews.
Funeral services will be held Thursday, November 29, 2018 at 11:00 am from the St. Paul's Lutheran Church, 474 Yalick Rd., Dallas, PA 18612 with Rev. Charles Grube, officiating.
Friends may call 10:00 AM - 11:00 AM at the church prior to the service.
Interment will be in the Silver Maple Cemetery, Hollenback Twp.
Arrangements are by the Curtis L. Swanson Funeral Home, Inc., corner of routes 29 and 118, Pikes Creek.
Memorial donations may be made to the St. Paul's Lutheran Church, 474 Yalick Rd., Dallas, PA 18612 or the Alzheimer's Association, 57 N Franklin St, Wilkes-Barre, PA 18701.