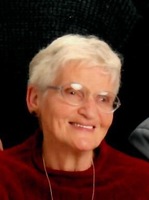 Norma Reed Crispell
Norma Crispell, age 90 of Dallas, passed away Sunday, October 28, 2018 at Celtic Hospice and Inpatient Unit, Wilkes-Barre.
Mrs. Crispell was born in Glenside on November 5, 1927 and was the daughter of the late Carlton C. and Edna Seavy Reed.
Norma moved to Dallas in 1943 and graduated from Dallas Boro High School in 1945. She was a member of the Dallas United Methodist Church for over 60 years, joining in 1944. Norma was also member of the former United Methodist Women. She was employed by the former Commonwealth Telephone Co. as an operator and then later Laros Textiles as an inspector. Her family was the love of her life, especially her grandchildren.
In addition to her parents, she was preceded in death by her husband of 38 years, Stephen A. Crispell who passed away in 1988, daughter, Nancy Jane, son, Jay T. Crispell, brother, Theodore Reed and sister, Joyce Fiske.
Surviving are sons, Stephen D. and his wife Marilyn of Pittston, Wayne C. and his wife Cynthia of Owego, NY and Paul K. of Dallas; daughter, Joyce Wasylkewicz and her husband Michael of Lehman; grandchildren, Michael and Kelly Wasylkewicz, Tiffany Walsh and her husband Michael, Keith, Ashleigh, Jason and Ryan Crispell, Tracy Smith and her husband Brian and Timothy Dunham and his wife Michelle; great-grandchildren, Madison and Jack Walsh and Brian Smith; daughter-in-law, Tracy Crispell of Trucksville; numerous nieces and nephews.
Funeral services will be held Friday, November 2, 2018 at 11:00 am from the Curtis L. Swanson Funeral Home, Inc., corner of routes 29 and 118, Pikes Creek, with Rev. Craig Gommer of the Dallas UM Church, officiating.
Visitation will be held Thursday from 6:00 PM – 8:00 PM at the funeral home.
Interment will be in the Chapel Lawn Memorial Park, Dallas.
In lieu of flowers, memorial donations may be made to the Dallas United Methodist Church, 4 Parsonage St, Dallas, PA 18612.
The family would like to give a special thanks to the staff at Celtic Hospice for their kindness and generosity given to their mother.