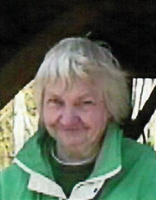 Lois Martha Martin
Lois M. Martin, age 78 of Noxen, passed away Wednesday, September 26, 2018 at the Celtic Hospice Healthcare Inpatient Unit, Wilkes-Barre.
She was born in Noxen Township on November 25, 1939 and was the daughter of the late Cecil and Julia Pahler Boston.
Lois attended Roaring Brook Baptist Church, Hunlock Creek. She was a stay at home wife and mother. Lois and her late husband, Clyde, operated a small family farm that supplied plenty of food for their entire family.
In addition to her parents, she was preceded in death by husband, Clyde who passed away in 2013 and infant son, Sam.
Lois is survived by children, Lucinda Marie Lutz and her husband Walter of Falls, Cecil Fred and his wife Amanda of Hillside Farms, Donna Louise Boyes and her husband Jeff of Pikes Creek and George Henry, at home; grandson, Marshal Lutz; several nieces and nephews.
Funeral services will be held Monday, October 1, 2018 at 11:00 from the Curtis L. Swanson Funeral Home, Inc., corner of routes 29 and 118, Pikes Creek, with Pastor Dan Brubaker of the Roaring Brook Baptist Church, officiating.
Visitation will be held from 7:00 – 9:00 PM on Sunday at the funeral home.
Interment will be in the Maple Grove Cemetery, Pikes Creek.
In lieu of flowers, memorial donations may be made to the Roaring Brook Baptist Church, 332 Prichards Rd, Hunlock Creek, PA 18621.