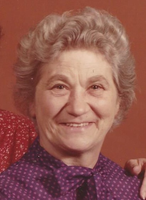 Della Dymond
Della Mae Dymond, 95, of Beaumont, passed away unexpectedly on Monday December 18, 2017 at Wilkes-Barre General Hospital.
She was born in Kunkle on August 10, 1922 and was the daughter of the late Alvin and Lily Kittle Scott.
Della attended the Noxen Bible Baptist Church and was a loving mother to her daughter, Linda and son, Jerry.
Her husband Allen "Bud" Dymond, passed away in 1989. Also preceding her in death are brothers: Alvin Scott, David Scott, Allen Paul Scott, Corey Edwin Scott, Glen Clifford Scott and sisters: Beatrice Lapollo, Violet White, Catherine Wilson, and Lily Marie Scott.
Surviving are her children: Linda and Jerry, at home; brother: Gene Richard Scott and his wife, Jane of Noxen, numerous nieces and nephews.
Funeral services will be held Friday at 11 AM from the Curtis L. Swanson Funeral Home, Inc., corner routes 118 & 29, Pikes Creek, with Pastor Ben Hubbell officiating. Interment will follow in Idetown Cemetery.
Family and friends may call Thursday 6-8 PM at the funeral home.
In lieu of flowers, memorial contributions can be made to Noxen Bible Baptist Church, 3604 SR 29 S, Noxen, PA 18636 or Child Evangelism Fellowship, PO Box 73, Tunkhannock, PA 18657