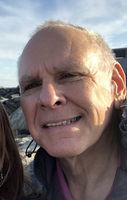 Daniel Suda
Daniel E. Suda, went home to be with Jesus on November 19, 2022.
Dan was a lover of his Lord and was a loving husband, father, and grandfather. He was also a servant leader, hard worker, worship leader, and good friend. He will be missed greatly by so many people.
He worked his entire career in the telecommunications industry, with most of his time spent at Commonwealth Telephone Co. The latter 7 years of his career, he and his wife lived in Maine where he was employed by Otel Co.
Dan leaves behind his wife of 47 years, Joleen Suda; daughters, Melanie Lansberry (Walter), Tiffany Hoch (Jody) and Harmony Suda; grandchildren, Marin Trojan, Raechel Trojan, Selah Hoch and Daniel Hoch; sisters, Maryann Reitz and Kathy Dolman; brother, George Suda.
A celebration of life service will be held on December 5, 2022 at 7:00 PM at the Christian Assembly, 195 E. Northampton St., Wilkes-Barre, PA 18702 with Pastor Dennis Madeira, officiating. This would have been Dan's 70th earthly birthday.
Visitation will be from 6:00 PM – 7:00 PM prior to the service at the church.
Arrangements are by the Curtis L. Swanson Funeral Home, Inc., corner of routes 29 and 118, Pikes Creek.