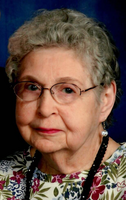 Beverly Lorraine Bacon
Beverly Lorraine Deets Bacon, age 94 of Sweet Valley, peacefully went home to be with the Lord on Tuesday November 15, 2022.
Born on January 29th, 1928 in Pennsylvania and is the daughter of the late Harry Josiah and Minnie Adelaide Deets. She and her husband George raised 4 children in Audubon, New Jersey and later retired to Sweet Valley, Pennsylvania. Beverly was a loving wife, mother, grandmother, and great grandmother.
Beverly was a member of Haddon Heights Methodist Church in New Jersey and later became a member of the Sweet Valley Church of Christ, in Pennsylvania. She was always involved in the Women's fellowship and enjoyed crocheting squares used to make Afghan blankets for the needy. Beverly was the most known and appreciated for the Holiday meals she would make for her friends and family.
In addition to her parents, Beverly was preceded in death by husband, George Bacon; son, Dwane Bacon; and siblings, Dorothy Lee, Claire Wesley, Wardan Deets, and Lois Alrich.
Surviving are their children, son: David Bacon and his wife Liane; daughters: Susan Smith and her husband Dan; Denise Pardo and her husband Kevin; grandchildren, Sarah, Donna, Kelly, Rebecca, Joshua, Emily, Jared, Joel, Keifer, Jordan, and Jenna; and 17, now 18 great grandchildren, as one was born Tuesday morning, with 2 more still on the way.
Funeral services will be held Saturday, November 19, 2022 at 10:00 AM from Grace Community Church, 4122 Memorial Highway, Dallas, PA 18612, with her nephew, Randy Walsh, officiating.
Interment will follow in Maple Grove Cemetery.
Family and friends may call on Friday, November 18, 2022 from 6:00 PM to 8:00 PM, at the Curtis L. Swanson Funeral Home, Inc., Corner of Routes 29 & 118, Pikes Creek.
In lieu of flowers, donations can be made to the Sweet Valley Church of Christ, 5439 Main Rd Sweet Valley, PA 18656.
Online condolences can be made at clswansonfuneralhome.com