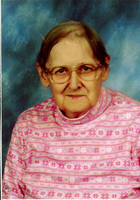 Betty Jane Scouten
Betty Jane Scouten, age 94 of Noxen, passed away Monday, October 10, 2022 at the Wilkes-Barre General Hospital.
She was born in Shickshinny on September 15, 1928 and was the daughter of the late William and Minnie Kline.
Betty worked as a seamstress at local sewing factories for many years. She also worked with the Cub Scouts as a leader for several years. Betty was a former member of the Tunkhannock Church of Jesus Christ of Latter Day Saints. She enjoyed cooking and baking.
In addition to her parents, she was preceded in death by her husband, Homer Scouten; daughter, Donna Butler.
Betty is survived by son, Daniel Scouten; son-in-law, Dale Butler, Sr.; grandchildren, Dale, Jr., Brian, Michael and Daniel; 6 great-grandchildren.
A graveside service will be held Saturday, December 10, 2022 at 2:00 PM at Orcutts Grove Cemetery, Noxen.
Arrangements are by the Curtis L. Swanson Funeral Home, Inc., corner of routes 29 and 118, Pikes Creek.
Online condolences can be made at clswansonfuneralhome.com