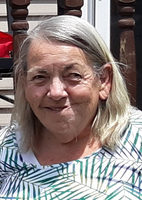 Catherine Jane McCormack
Catherine J. McCormack, age 75 of Noxen, passed away Thursday, July 14, 2022 at home, surrounded by her husband and son.
She was born in Noxen on December 30, 1946 and was the daughter of the late Bernard and Helen Dendler.
Catherine graduated from Lake-Lehman High School, Class of 1964. She then resided with her husband, Ralph, in Eglin Air Force Base, Florida; eventually moving to Noxen together, where they spent the rest of their lives. Catherine was a member of the Ladies Auxillary at the Noxen Volunteer Fire Company and the Noxen Bible Baptist Church. She was also an active volunteer in the Pastor's Food Pantry. She enjoyed crocheting and knitting.
In addition to her parents, she was preceded in death by brother, Bernard, Jr.
Catherine is survived by her husband of 56 years, Ralph McCormack; son, Matt McCormack of Noxen; and brother, Mark Dendler and wife Diane.
A memorial service will be held Saturday, July 23, 2022 at 2:00 PM from the Noxen Baptist Bible Church, 3622 State Route 29, Noxen, PA 18636, with Pastor Ben Hubbell, officiating.
Arrangements are by the Curtis L. Swanson Funeral Home, Inc., corner of routes 29 and 118, Pikes Creek.
Memorial donations can be made to the Noxen Bible Baptist Church, 3604 State Route 29 S, Noxen, PA 18636; or the Noxen Volunteer Fire Company, 3493 Stull Road, Noxen, PA 18636.
Online condolences can be made at clswansonfuneralhome.com