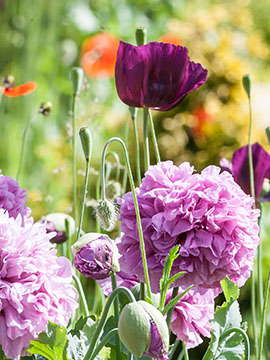 In Memory of
Ruth Wilma Titus
1915 - 2017
Obituary of Ruth Titus
Ruth Titus went home to be with her Lord on Wednesday, November 8, 2017 after being blessed with 102 years of age. She resided with her daughter, Wilma Mahle in Dallas.
Mrs. Titus was born at home in Hunlock Creek on February 19, 1915 and was the daughter of the late William and Rena Moss Birth.
She graduated from the former Laketon High School on June 5, 1935. Ruth married Henry Titus on May 26, 1936 and were married for 30 years before his passing on February 16, 1966. She was an active life member of the Emmanuel Assembly of God Church, Harveys Lake, and was their pianist for 15 years. Ruth served as treasurer of the Women's Ministry Group, taught Sunday school, helped with funeral dinners, sang in their choir and helped with Bible school.
She enjoyed getting together with her family. Her favorite book: The Bible; Favorite place: Church; Favorite instrument: the piano; Favorite song: Amazing Grace; Favorite flower: daffodil; Favorite dessert: vanilla ice cream; Favorite season: Summer.
In addition to her parents and husband, she was preceded in death by infant daughter, Donna Jean Titus, sisters, Twins, Rella and Retta Birth, Neta Jones, brother, Carl Birth, grandson, Robert Stolarick and great-grandson, Robbie Stolarick.
Ruth is survived by daughters, Wilma Mahle of Dallas, Mae Vollrath of Harveys Lake and Joan Estus of Wilkes-Barre; son, Larry Titus and his wife Letha of Harveys Lake; 12 grandchildren, 27 great-grandchildren and 18 great-great grandchildren.
Funeral services will be held Saturday, November 11, 2017 at 11:00 am from the Emmanuel Assembly of God Church, 239 Church Rd., Harveys Lake, PA 18618, with Rev. L.D. Reed, officiating.
Friends may call on Friday from 6 PM to 8 PM at the Curtis L. Swanson Funeral Home, Inc., corners of routes 29 and 118, Pikes Creek.
Interment will be in the Bloomingdale Cemetery, Ross Twp.
In lieu of flowers, the family requests memorial donations be made to Emmanuel Assembly of God Church, 239 Church Rd. Harveys Lake, PA 18618 or to the charity of the donor's choice.