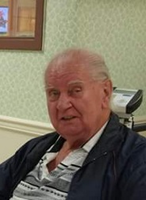 Taft Anthony Truska
Taft Anthony Truska, Jr., age 89 of Harveys Lake, passed away Saturday, April 14, 2018 at the Meadows Nursing Center, Dallas.
He was born in Wilkes-Barre on January 19, 1929 and was the son of the late Taft A. Sr. and Margaret Rutkowski Truska.
Taft and his wife, Peg, owned and operated Taft's Market, Harveys Lake, for over 30 years. He was an avid outdoorsman and enjoyed hunting, fishing and trapping.
In addition to his parents, he was preceded in death by son, Taft A. Truska, III and sisters, Josephine Evans and Margaret Gulitus.
Taft is survived by his wife, the former Margaret "Peg" Preston; sister, Florence "Babe" Boyle of Harveys Lake; daughter-in-law, Lorraine Truska of Harveys Lake; grandchildren, Taft IV and his wife Kristen, Matthew and Keegan; great-grandchildren, Taft V, Savannah, Tayden and Sierra; numerous nieces and nephews.
At his request, funeral services will be private. There will be no calling hours.
Arrangements are by the Curtis L. Swanson Funeral Home, Inc., corners of routes 29 and 118, Pikes Creek.