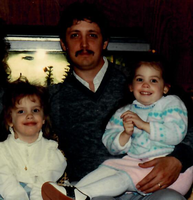 Jeffrey Howard Sorber
Jeffrey Howard Sorber, age 56 of Swoyersville, was called home to God on Monday, April 9, 2018.
He was born in Kingston on New Year's Day of 1962 and was the son of the late Edward and Madeline White Sorber.
Jeffrey graduated from Lake-Lehman High School in 1980 and continued his education at the Pennsylvania State University to advance in his career. He spent most of his working career as a successful project leader for Cornell Iron Works and worked many years as a sales consultant. Jeffrey loved to make people laugh and was truly a joy to be in his presence. Most of all, Jeff enjoyed being the greatest Dad of all time. He will truly be missed by all who knew him. Jeff grew up in the Back Mountain and was an avid outdoorsman which included his love to hunt and fish. He was also a passionate Kansas City Chiefs fan.
Jeffrey is survived by daughters, Melody Sorber, at home and Bobi Jo Sorber of Schenectady, NY; brothers, Richard Sorber and his wife Ippun of Manassas, VA, David Sorber and his wife Claytonna of Sweet Valley, Mark Sorber and his wife Donna of Lehman and Edward Sorber, Jr. and his wife Karen of Forty-Fort; grandson, Jaxon; many nieces and nephews.
A memorial service will be held Friday, April 13, 2018 at 7:30 PM from the Restored Church, 74 S. Meade St., Wilkes-Barre, PA 18702 with Pastor Padrick Kenney, officiating.
Friends may call from 5:00 PM – 7:30 PM prior to the service at the church.
Arrangements are by the Curtis L. Swanson Funeral Home, Inc., corners of routes 29 and 118, Pikes Creek.
Memorial donations may be made to Restored Church, 74 S. Meade St., Wilkes-Barre, PA 18702.