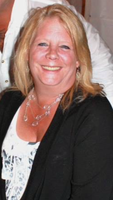 Candy Jane Harris
Candy Jane Harris, age 55 of Dallas, passed away the morning of Saturday, March 31, 2018 surrounded by her loved ones.
She was born in Kingston on December 25, 1962 and was the daughter of Evelyn Walsh of Harveys Lake and the late Gary Cooper.
Candy graduated from Lake Lehman High School in 1980. She was a fun loving, amazing woman who loved her family and friends. Candy will be missed by many and forever in our hearts.
In addition to her mother, she is survived by stepfather, Michael Walsh; daughter, Tiffany Park and her husband Roger; sons, Daniel Harris and his fiancé Traci and Adam Harris and his fiancé Ivy; siblings, Carol Fink and her husband Ron, Gary Cooper, Paul Cooper, Chris Deleur and his wife Susan, Lindee Bara and her husband Don; Fiancé, Charles Young; stepsons, Logan, Eric, John and CJ; grandchildren, Maddison, Cole, Brynna and Brayden; aunt, Diane Fiske Dieroff; nieces, nephews and other extended family members.
A memorial service will be held Wednesday, April 4, 2018 at 3:30 PM from the Dallas United Methodist Church, 4 Parsonage St., Dallas, PA 18612, Pastor Judy Walker,officiating.
Visitation will be from 3:00 PM – 3:30 PM prior to the service at the church.
Arrangements are by the Curtis L. Swanson Funeral Home, Inc., corner of routes 29 and 118, Pikes Creek.
Memorial donations may be made to https://www.gofundme.com/CandyHarrisMemorialFund.