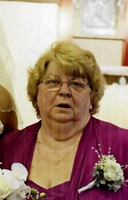 Lynda Sue Heuer
Lynda Sue Heuer, age 76 of Union Twp., passed away Saturday, March 31, 2018 at the Wilkes-Barre General Hospital, with her family by her side.
She was born in Lewistown on November 23, 1941 and was the daughter of the late Harry and Esther Williams Kuhn.
In addition to her parents, she was preceded in death by brother, Richard Kuhn.
Lynda is survived by her husband of 57 years, Richard Heuer; sons, Richard C. Heuer, Jr., at home and R. Scott Heuer and his wife Sharon of Dallas; sisters, Sandra Schmidt of Sarasota, FL, Carol Wagner of Atlanta, GA and Mary Jane Evans of Harveys Lake; grandchildren, Tanya and Scott; great-granddaughter, Arrianna; numerous nieces and nephews.
Funeral service will be private from the Curtis L. Swanson Funeral Home, Inc., corners of routes 29 and 118, Pikes Creek.
Private interment will be in Chapel Lawn Memorial Park, Dallas.
In lieu of flowers, memorial donations may be made to the National Multiple Sclerosis Society, 2000 Linglestown Rd, Ste 201,Harrisburg, PA 17110.