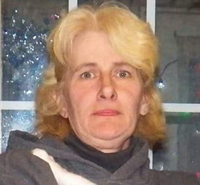 Judi Marie Roche
On March 11th 2018, Judi M Roche, left this life to be with our
Lord Jesus Christ.
She was the loving mother of six children and the wife of Robert G Roche of Fairmount Springs.
Judi was born in Schenectady, NY on July 14, 1964.
She attended local schools and graduated in 1982. Judi was
employed by several security agencies and worked for the Border
Patrol in Texas and California. After moving to Pennsylvania, she was
able to fulfill her lifetime ambition to open Trailways to Heaven
Animal Rescue with a little help from her father John Diemer.
Judi liked to do arts and crafts and browse flea markets. She
loved all animals and studied to become a veterinary technician.
Judi was a wonderful wife and mother and will be sorely missed
by all who knew her except a select few. She passed after a short
but painful bout with cancer. Her suffering is now over. May she rest in
peace.
Judi is survived by her husband Robert and her six children.
Funeral services will be held Monday, March 19, 2018 at 9:30 am from the Curtis L. Swanson Funeral Home, Inc., corners of routes 29 and 118, Pikes Creek, with A Mass of Christian Burial at 10 am from the Our Lady of Mount Carmel Church, Lake Silkworth, with Rev. Alex Roche, officiating.
Friends may call from 3 PM – 5 PM at the funeral home on Sunday.
In lieu of flowers we ask that a donation be made to Judis rescue,
Trailways to Heaven, 589 Old Tioga Turnpike, Benton, PA 17814.