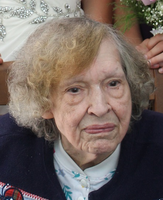 Emma Jean Atherton
Emma Jean Atherton, age 91 of Harveys Lake, passed away Saturday, February 17, 2018 at home.
She was born in Elizabethville on February 23, 1926 and was the daughter of the late Floyd and Julia Youells Eustice.
Emma loved her entire family. She enjoyed cooking, playing the guitar and singing.
In addition to her parents, Emma was preceded in death by husband, Glenn Atherton, brothers, Carl, William and Harold.
She is survived by sons, James Atherton and his wife Linda of West Nanticoke and David Atherton and his wife Lois of Luzerne; daughters, Caroline Atherton of Harveys Lake, Bertha Hunter of Nanticoke and Donna Ritts of Hanover; 18 grandchildren, 31 great-grandchildren and 3 great-great grandchildren.
Funeral services will be held Wednesday, February 21, 2018 at 11:00 am from the Curtis L. Swanson Funeral Home, Inc., corner of routes 29 and 118, Pikes Creek, with Pastor Tim Hall of the Nebo Baptist Church, Nanticoke, officiating.
Friends may call 6:00 - 8:00 PM on Tuesday at the funeral home.
Interment will be in the Oakdale Cemetery, Hunlock Creek.