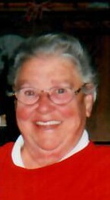 Anna Grace Manzoni
Anna "Sissy" Grace Manzoni, age 93 of Jackson Twp., passed away Thursday, January 25, 2018 at home surrounded by extended family.
Born on April 29, 1924, at the family home in Jackson Twp. and was the daughter of the late Joseph and Alice McNally Manzoni.
She was a life long resident of Jackson Twp. Anna attended the one room Rome School in Jackson Twp. and graduated from Kingston Twp. High School. Upon graduating from high school, Anna was employed by Coalomatic, followed by working at the lace mill, Natona Mills, where she retired after 40 years. Anna was a charter member of Gate of Heaven Church, Dallas, as well as a member of their Altar and Rosary Society. She was also a life member of the Jackson Twp. Ladies Auxiliary. Anna enjoyed gardening, canning, bird watching and traveling.
In addition to her parents, she was preceded in death by brothers, Joseph, Edward, Francis and his wife Agnes, brothers-in-law, Sidney Fielding and David Lee, god-daughter, Donna Royer and companion, James Hannon.
Anna is survived by siblings, Grace Fielding, John Manzoni and his wife Margaret Ann, Alfred Manzoni and his wife Betty, Alice Lee and Mary Manzoni; 17 nieces and nephews, 24 great-nieces and nephews and 5 great-grand nieces.
Funeral services will be held Monday, January 29, 2018 at 10:15 am from the Curtis L. Swanson Funeral Home, Inc., corner of routes 29 and 118, Pikes Creek, with a Mass of Christian Burial at 11:00 am from Gate of Heaven Church, 40 Machell Ave, Dallas, PA 18612, with Rev. Daniel Toomey, officiating.
Friends may call from 1:00 PM – 4:00 PM on Sunday at the funeral home.
Interment will be in the St. Nicholas Cemetery, Shavertown.
A special thanks to her caregivers, nephews Butch Manzoni and Mark Manzoni, for their kind hearts, strong hands and selfless tender loving care, Hospice of the Sacred Heart, Dr. Stanley Lobitz, Deacon Tom Cesarini and Rev. Daniel Toomey.
In lieu of flowers, memorial donations made to made to the Jackson Twp. Fire Dept., 1160 Chase Rd., Shavertown, PA 18708.