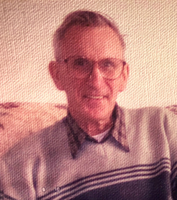 Robert Bonning
Robert Corey Bonning went to be with Lord on January 7th, 2018. He was diagnosed with lung cancer in early 2017, which he fought with his faith until the very end. His quick-witted humor, kindness, and dedication to his family and friends will be greatly missed by all who knew him. Even during his most ailing times Bob's humor and light heartedness shined through, bringing laughter, peace and ease to those around him.
Bob was born on February 13, 1933 to the late Mr. and Mrs. Kenneth & Helen Bonning. He grew up in the Harveys Lake area and graduated from Lehman Jackson High School in 1951. Bob was very active in sports, as he was a part of the original Lehman Jackson football team's infamous "Old Shoe" game. He was well known for his height and athleticism, as he excelled in baseball, basketball and football.
Shortly after high school, Bob enlisted in the United States Air Force and served four years of active duty as an Aircraft Mechanic at the Elmendorf Airforce base in Anchorage, Alaska. While serving our country, Bob and one other Airman were recognized for inventing a wrench that is was widely used by aircraft mechanics in the USAF.
After the military, Bob joined the carpenters' union and spent decades working with his hands, building everything from residential homes to making household repairs. Bob was a "jack of all trades" and everyone's go-to man when something needed to be fixed, especially to those in his family and his church community.
Bob and Nancy moved south shortly after their daughters graduated from high school, where they settled and spent many happy years together in Bradenton, Florida. Eventually as their grandchildren grew they decided to split their time, spending summers in Pennsylvania and winters in Georgia where they'd stay with their "adopted" children, Mr. and Mrs. Bill and Carol Lewis.
As devout Christians, Bob and Nancy dedicated their lives to the Lord and served in many church communities in both Pennsylvania and Florida. Most recently they spent their time as members of the Cross Creek Community Church in Trucksville, PA.
Bob leaves behind his wife, Nancy, with whom he recently celebrating his 60th wedding anniversary with. He is also survived by his sister, Carol, and three loving daughters, Sherry Lesage and her husband Mark, Roberta Kasko and her husband Richard, Penny Higgins and her late husband, James. In addition to their daughters, Bob and Nancy have 9 grandchildren and 14 great grandchildren.
Bob was preceded in death by his brother, Kenneth Bonning and great-grandson, Conlan Mayer.
Bob and Nancy's family would like to say thank you to all who have prayed for peace and comfort during this difficult time.
A celebration of Bob's life will be held at the Main Sanctuary of the Cross Creek Community Church, 370 Carverton Rd Trucksville, PA 18708 beginning at 6:00 pm on Tuesday January 9th, 2018. All who knew and loved him are encouraged to attend. Eulogy will be led by Pastor Dave Martin. Anyone with fond and/or humorous memories of our beloved Bob will be encouraged to share. In lieu of flowers please make contributions directly to the Cross Creek Community Church.