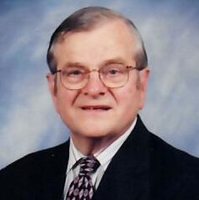 Harry Morton Howell
Harry M. Howell, 95, died peacefully early Friday morning at Wilkes-Barre General Hospital.
He was born in Wilkes-Barre October 23, 1922 to the late Harrison M. and Florence Siegel Howell and graduated from Lehman High School. He resided most of his life in Dallas.
He served in the CBI theater of World War II as a flight engineer, "flying the Hump", achieving the rank of staff sergeant. Following the war, he was employed at the former American Chain and Cable Company.
He was married to the former Ruth M. Elston, Dallas from 1948 until her death in 1996.
Known for his gentle manner and smooth baritone voice, Harry had a decades long history of singing with the Barbershop Harmony Society and the church choir. More recently, he performed with the Vets for Vets Singers. He was an officer in the Odd Fellows Lodge, Lehman.
He was a long-time member of the Huntsville Christian Church and lately, the Berwick Church of Christ.
In addition to his wife, he was preceded in death by his son Jim. He is survived by daughters Linda (Mrs. Joseph) Sofia and Nancy (Mrs. Ralph) Ide, and daughter-in-law Shela Howell, eight grandchildren and 7 great-grandchildren.
The family wishes to thank the nurses and staff at Wilkes-Barre General Hospital, 5th Floor East and Erwine Hospice for their compassionate care.
In lieu of flowers, contributions may be made to the Disabled American Veterans.
Funeral services will be held Wednesday at noon from the Curtis L. Swanson Funeral Home, Pikes Creek. Friends may call from 10 am Wednesday until the time of the service. Interment will be in the Huntsville Cemetery.