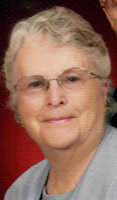 Barbara Ann Shafer
Barbara A. Shafer, age 79 of Dallas, passed away Monday, December 11, 2017 at home.
Mrs. Shafer was born in Wilkes-Barre in1938 and was the daughter of the late Charles and Ann Davies Birkenhead.
Barbara graduated from Meyers High School, class of 1956. She was an active member of St. Paul's Lutheran Church where she sang in the choir, served as leader of the Altar Guild and was a member of its Dorcas Society. Barbara was also a member of the local card club and the Back Mountain Quilter's Club, who met at St. Paul's Church. She was a loving wife, mother, grandmother and great-grandmother.
She is survived by her husband of 59 years, Howard; son, Jonathan and his wife Betsy of Wilkes-Barre; daughters, Debra Smith and her husband Thomas of Sweet Valley and Carol Staats and her husband Peter of Hopewell, NJ; sister, Elizabeth Carlson of Woodbury, NJ; grandchildren, Robert, Wyatt and Thomas; great-grandson, Parker; several step-grandchildren and step-great grandchildren; several nieces and nephews.
A memorial service will be held Friday, December 15, 2017 at 11:00 am from St. Paul's Lutheran Church, Dallas, PA 18612 with Rev. Charles H. Grube, officiating.
Friends may call 2-4 PM and 6:00 - 8:00 PM on Thursday, December 14 at the Curtis L. Swanson Funeral Home, Inc., corner of routes 29 and 118, Pikes Creek.
In lieu of flowers, memorial donations may be made to the St. Paul's Lutheran Church, PO Box 802, Dallas, PA 18612 or the American Diabetes Association, 63 N Franklin St, Wilkes-Barre, PA 18701.