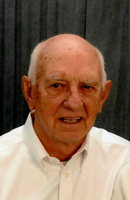 Robert Bergen Walsh
Robert B. Walsh, age 84 of Sweet Valley, passed away peacefully on Monday, November 27, 2017 at home, surrounded by his loving family.
Mr. Walsh was born in Ross Township on December 27, 1932 and was the son of the late Joseph and Zelma Briggs Walsh.
Bob was a graduate of the former Shickshinny High School, Class of 1950. Bob joined the Sweet Valley Volunteer Fire Company in 1949 and served as its Fire Chief for 30 years. He was a founding member of the Sweet Valley Ambulance Association and with his wife, Alice, faithfully served the community for over 50 years. He served his country in the Korean War. Bob was a loving father, brother, father-in-law and grandfather. He enjoyed hunting, shooting, farming and spending time with his grandchildren.
In addition to his parents, he was preceded in death by his wife, Alice Walsh.
Bob is survived by son, Robert L. Walsh and his wife Patricia of New Market, MD; sister, Patricia McDonald of Norton, MA; grandchildren, Nicole and Robert Walsh; numerous cousins, nephews and nieces.
Funeral services will be held Friday, December 1, 2017 at 11:00 am from the River of Life Fellowship, 22 Outlet Rd, Dallas, PA 18612 with Pastor Kenneth Kreller, officiating.
Friends may call 6:00 - 8:00 PM on Thursday, at Curtis L. Swanson Funeral Home, Inc., corner of routes 29 and 118, Pikes Creek.
Interment will be in the Maple Grove Cemetery, Pikes Creek.
Memorial contributions can be made to the Sweet Valley Volunteer Ambulance or Sweet Valley Volunteer Fire Co., PO Box 207, Sweet Valley, PA 18656.