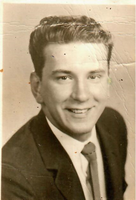 Edward Andrew Turchin
Edward A. Turchin, age 75 of Jackson Twp., passed away Saturday, November 25, 2017 at the Celtic Hospice Healthcare Inpatient Unit, Wilkes-Barre.
Mr. Turchin was born in Korn Krest on October 13, 1942, and was the son of the late Joseph and Ann Prozeralik Turchin.
He and his wife, the former Bonnie Lewis, were both graduates of Hanover Memorial High School Class of 1960. He proudly served in the United States Navy from 1960 to1964. He was based at the Naval Weapons Station, Newport News, VA, where he was chosen as Sailor of the Month for his dedication and loyalty. He is retired from the Tobyhanna Army Depot, where he worked in satellite communications.
Edward belonged to Our Lady of Mount Carmel Church, Lake Silkworth, where he served as a Eucharistic Minister and was a member of the Holy Name Society.
He was known by all from the Lake-Lehman school district for his dedication and service to the football and wrestling programs, especially for selling 50/50 tickets.
He and the love of his life Bonnie, celebrated their 53rd anniversary on August 22, 2017.
In addition to his parents, he was preceded in death by his beloved son, Eddie Turchin.
Edward is survived by his wife Bonnie; daughter, Pamela Turchin of Shavertown; brother, Mark of Hanover Green; sister, Joyce Rominski of Korn Krest; several nieces, nephews and cousins.
Funeral services will be held Wednesday, November 29, 2017 at 9:30 am from the Curtis L. Swanson Funeral Home, Inc., corner of routes 29 and 118, Pikes Creek, with a Mass of Christian Burial at 10:00 am from Our Lady of Mount Carmel Church, 2011 State Route 29, Hunlock Creek, PA 18621 with Rev. Alex Roche, officiating.
Friends may call 6:00 - 8:00 PM on Tuesday at the funeral home.
Interment will be in the Maple Grove Cemetery, Pikes Creek.
In lieu of flowers, memorial donations may be made to the charity of one's choice.