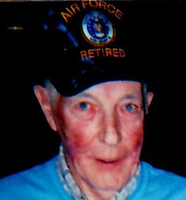 Robert James Farber
Robert James Farber, age 85 of Dallas, passed away Tuesday, November 21, 2017 at the Hospice of the Sacred Heart, Dunmore.
Mr. Farber was born in Wilkes-Barre on May 8, 1932. Both of his parents are deceased.
Robert had a military career serving in the US Air Force for 22 years. He was a member of the Daddow Isaac Dallas American Legion, Post 672.
In addition to his parents, he was preceded in death by 1st wife, the former Elizabeth Belles, daughters, Lori and Bonnie.
He is survived by his wife, the former Anna Sites; sons, Robert, Jr. and his wife Davida of Saylorsburg and Gary and his wife Kendra of West Palm Beach, FL; daughter, Debra Vavrik of Swoyersville and Judith Dane and her husband Donald of Swoyersville; step-daughters, Michele Macosky and Beverly Daily of Dallas; numerous grandchildren, great-grandchildren, great-great grandchildren, nieces and nephews.
A prayer service will be held Monday, November 27, 2017 at 11:00 am from the Curtis L. Swanson Funeral Home, Inc., corners of routes 29 and 118, Pikes Creek, with Rev. Joseph Pisaneschi of the St. Elizabeth Ann Seton Church, Swoyersville, officiating.
Friends may call from 2:00 PM – 4:00 PM on Sunday and then 9:00 AM – 11:00 AM on Monday at the funeral home.
Interment will be in the Chapel Lawn Memorial Park, Dallas.
In lieu of flowers, memorial donations may be made to the Wounded Warrior Project, PO Box 758517 ,Topeka, Kansas 66675-8517.