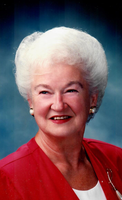 Josephine A. Evans
Josephine A. Evans, age 91 of Harveys Lake, passed away Thursday, September 28, 2017 at Fernwood Manor, Lake Twp.
Mrs. Evans was born in Wilkes-Barre on October 19, 1925 and was the daughter of the late Taft and Margaret Rutkowski Truska.
Josephine resided at Harveys Lake since 1944 and was a member of the Our Lady of Victory Church, Harveys Lake. She and her brother, Taft II, owned and operated Taft's Market at Harveys Lake for many years.
In addition to her parents, she was preceded in death by her husband, Henry Nelson Evans in 1981, her son, Henry M. Evans, her daughter Joyce Barber and her sister, Margaret Gulitus.
Josephine is survived by son, Mark K. Evans and his wife Wanda of Harveys Lake; daughter, Christina (Tina) Bryant and her husband David of Loyalville; brother, Taft Truska, II and his wife Peggy of Harveys Lake; sister, Florence (Babe) Boyle; grandchildren, Andrea, Janell, Will, Susan, Britt, Dylan, Gabrielle and Ken; 6 great-grandchildren; daughter-in-law, Debbie Evans; son-in-law, Bill Barber.
A prayer service will be held Tuesday, October 3, 2017 at 11:00 AM from the Curtis L. Swanson Funeral Home, Inc., corner of routes 29 and 118, Pikes Creek, with Rev. Daniel Toomey of the Our Lady of Victory Church, Harveys Lake, officiating.
Friends may call from 6 PM to 8 PM on Monday at the funeral home.
Interment will be in the Chapel Lawn Memorial Park, Dallas.
In lieu of flowers, memorial donations may be made to Hospice of the Sacred Heart, 600 Baltimore Dr # 7, Wilkes-Barre, PA 18702.