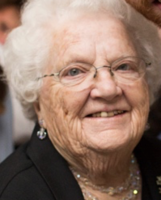 June Carolyn Swanson
June C. Swanson, age 95 of Harveys Lake, passed away, peacefully, Wednesday, September 13, 2017 at home with her loving family by her side.
Mrs. Swanson was born in Warwick, RI on June 5, 1922 and was the daughter of the late Henry and Eva Johnson Munson.
June was a member of the St. Luke's Reformation Lutheran Church in Noxen, the former Daniel C. Roberts Fire Co. Ladies Auxiliary, and was a charter member of the Harveys Lake Woman's Service Club. She resided at Harveys Lake and was active in the community for 71 years. She was a devoted and loving wife, mother, grandmother and great grandmother.
In addition to her parents, she was preceded in death by her husband, Carl T. Swanson who passed away in 1992 and her brother, James R. Munson.
June is survived by sons, Keith C. Swanson and his wife, Mary Jude, of Vernon, Curtis L. Swanson of Pikes Creek and Todd C. Swanson and his wife, Barbara, of Harveys Lake; grandchildren, Amanda, Alaina, David and his wife Jackie, Sara and her husband Michael; great-grandchildren, Lane, Riley, James, Sean and Eva.
Funeral services will be held Monday, Monday September 18, 2017 at 11:00 am from the Curtis L. Swanson Funeral Home, Inc., corner of routes 29 and 118, Pikes Creek, with Rev. James Howell, retired Pastor of Northmoreland Baptist Church, officiating.
Friends may call 3-5 PM on Sunday at the funeral home.
Interment will be in the Maple Grove Cemetery, Pikes Creek.
Online condolences can be made at clswansonfuneralhome.com
The family requests that, if desired, memorial contributions be sent to Hospice of the Sacred Heart, 600 Baltimore Drive, Wilkes-Barre, PA 18702 whose tender, loving and professional care for "mom" is appreciated far beyond what words can express.