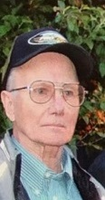 Merle Elwood Taylor
Merle E.Taylor, age 90 of Harveys Lake, passed away Saturday, August 5, 2017 at the Gardens at Lakeside, Harveys Lake.
Mr. Taylor was born in Kingston on March 19, 1927 and was the son of the late Adrian and Rosie Pahler Taylor.
Merle was employed for 20 years by the Carrier Corp., Syracuse, NY. He was a member of the American Legion Post 967, Harveys Lake. Merle was an avid fisherman.
In addition to his parents, he was preceded in death by wife, Marcia, brothers, Robert, Ralph, Alfred, Irvin, James, twin brother, Earl, and sisters, Alice Cover, Esther Kostich and Katherine Kostenbauder, granddaughter, Kristie Taylor.
Merle is survived by children, Merle (Mary Ann) Taylor, Linda (Frank) Brayton, Judy (Jim) Dennee and Kenneth (Sandi Johns) Taylor; brothers, Charles and Paul Taylor; numerous grandchildren, great-grandchildren, nieces and nephews.
A prayer service will be held Saturday, August 12, 2017 at 2:00 pm from the Curtis L. Swanson Funeral Home, Inc., corner of routes 29 and 118, Pikes Creek, with Rev. Alex Roche of the Our Lady of Mount Carmel Church, Lake Silkworth, officiating.
Friends may call 12:00 PM - 2:00 PM on Saturday prior to the service.
Future interment will be in Lehman Center Cemetery.
Online condolences can be made at clswansonfuneralhome.com