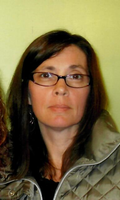 Helen Evelyn Spencer
Helen Evelyn Spencer, age 50 of Noxen, passed away on Sunday, July 30, 2017 surrounded by her family at the Hospice of the Sacred Heart, Dunmore, following a long illness.
Mrs. Spencer was born in Wilkes-Barre on January 24, 1967 and was the daughter of the late Sterling and Eleanore Schneider Wilkes.
She graduated from Lake-Lehman High School in 1985 and was employed as a nurses aid for various nursing home facilities in the Back Mountain area. Helen was a loving wife, mother and soon to be grandmother.
In addition to her parents, she was preceded in death by brother, Daniel Minneo, Sr. and sister, Christina Minuski.
Helen is survived by her husband of 19 years, George Spencer; daughters, Evonne Spencer of Mechanicsville, VA and Colleen Spencer, at home; brothers, Sterling Wilkes, Jr. of Canton, OH, Albert Wilkes of Wilkes-Barre, Kenneth Wilkes of Plymouth and David Wilkes of Virginia Beach, VA; sisters, Cathleen Burge of Tobyhanna, Theresa Higgins of Tobyhanna, Eleanore Grow of Reinholds and Linda Keefe of Noxen.
Funeral services will be held Thursday, August 3, 2017 at 11:00 am from the Curtis L. Swanson Funeral Home, Inc., corner of routes 29 and 118, Pikes Creek, with Walter "Chip" Sorber, officiating.
Friends may call 6:00 - 8:00 PM on Wednesday at the funeral home.
Interment will be in the Kocher Cemetery, Lake Twp.
In lieu of flowers, memorial donation may be made to Hospice of the Sacred Heart, 600 Baltimore Dr., #7, Wilkes-Barre, PA 18702, Alzheimer's Association of NEPA, 57 N. Franklin St., Wilkes-Barre, PA 18701, American Cancer Society, PO Box 22478, Oklahoma City, OK 73123 or Arthritis Foundation, 1355 Peachtree St. NE, Suite 660, Atlanta, GA 30309.