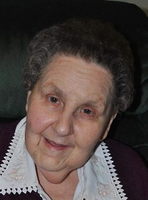 Louise Marie King
Louise Marie Handlos King, age 82 of Meeker, passed away peacefully with her family by her side on Tuesday, July 25, 2017 at the Meadows Nursing Center, Dallas.
Mrs. King was born in Wilkes-Barre on December 28, 1934 and was the daughter of the late John and Margaret Schaefer Handlos.
Louise graduated from Edwardsville High School in 1952 and attended Maple Grove United Methodist Church, Lake Twp. She retired from the former Encon Corp., Dallas, in 2002. Louise was a member of the Order of Eastern Star, Shick-Shawnee, Shickshinny since 1982.
In addition to her parents, she was preceded in death by the father of her children, Lyle King, Sr., son, Leonard King, brother, John "Bud" Handlos, infant brother, Joseph and sisters, Margaret Krause, Elizabeth "Betty" Senick and Helen Antall.
Louise is survived by son, Lyle King, Jr. and companion Deb Doughton; daughter, Ellen Maccarone and her husband Carmen; son, Michael King; daughters, Barbara Mikielski and her husband Jerry, Rosemary Weaver, Susan Lazur and her husband George, Elizabeth "Betsy" Phillips and her husband Ernie and Beverly King; 19 grandchildren and 8 great-grandchildren; numerous nieces and nephews.
Funeral services will be held Saturday, July 29, 2017 at 11:00 am from the Curtis L. Swanson Funeral Home, Inc., corners of routes 29 and 118, Pikes Creek, with Rev. James W. Pall of the Maple Grove United Methodist Church, officiating.
Friends may call 9:00 - 11:00 AM on Saturday prior to the service.
Interment will be in the Maple Grove Cemetery, Pikes Creek.
The family wishes to extend a heartfelt thank you to Dr. Boonin and the staff at the Meadows Nursing Center who became her second family during her stay. She loved them all.
In lieu of flowers, memorial contributions can be made to the Maple Grove United Methodist Church, 5876 Main Rd, Hunlock Creek, PA 18621 or the Katherine McAuley House, 121 Church St., Plymouth, PA 18651.
The family requests that if desired please bring a stuffed animal to the funeral home to be donated to the Meadows Auxiliary Activities.